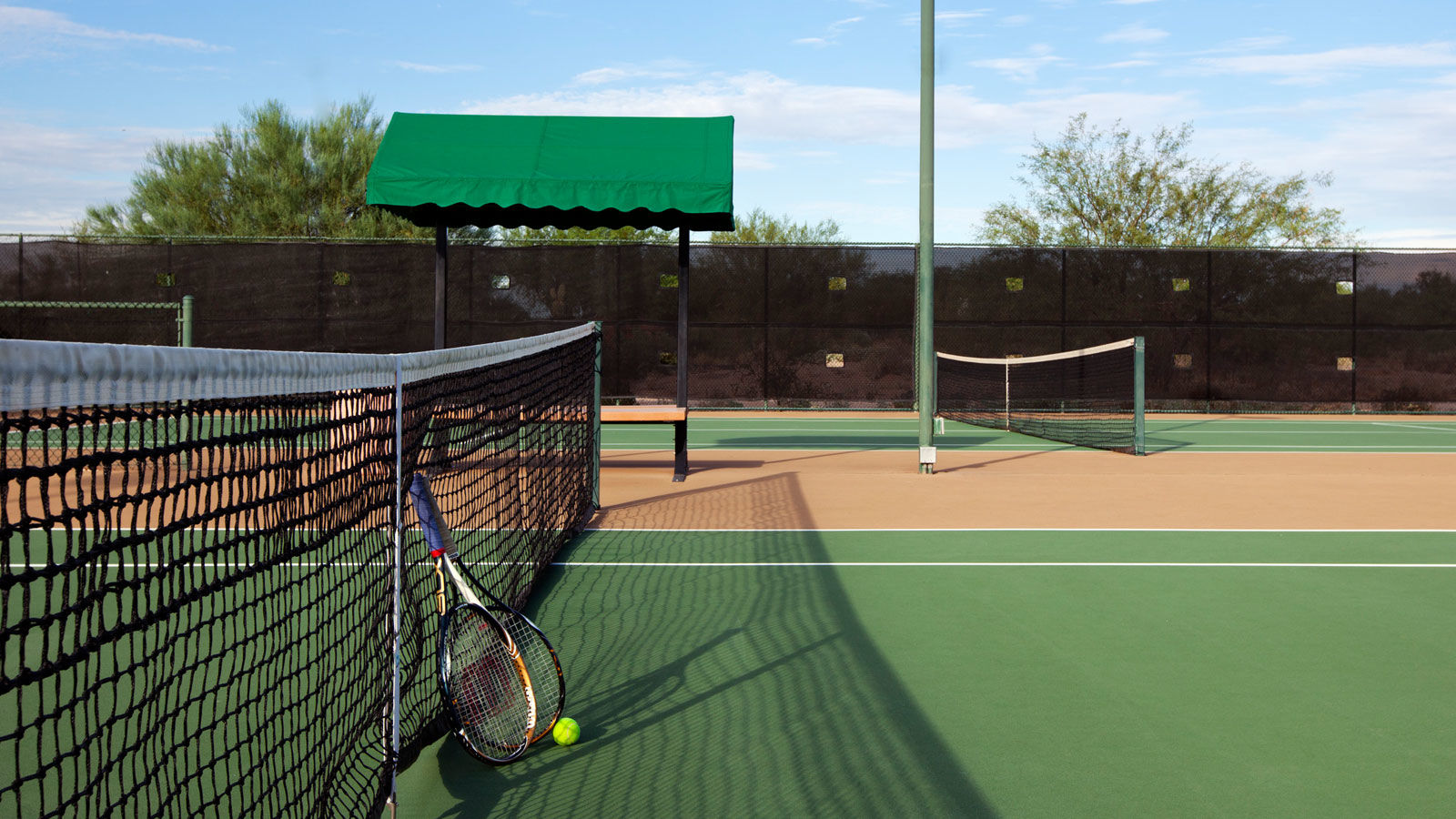 Aji Spa has two post tensioned concrete lighted tennis courts available for guest use. Reservations are recommended and may be made on the hour or half hour. A 24 hour cancellation notice is required for court time, lessons and clinics. Proper tennis attire and tennis shoes are required (no running shoes or sandals). Wilson Demo racquets are available at the Aji front desk.
Court Fees
1 hour court rental
$25
1 hour Ball Machine
$40
Championship Balls
$5
Instruction
Private Lesson w/ Josh Bates (1hr)
$85
Private Lesson w/ Josh Bates ( 1/2 hr)
$50
Three & Me Tennis Clinic (1hr p/ player)
$45
Group Clinics (1 hr per player)
$40
You will have a brief on court analysis, setup your personal goals, and learn to enhance your game. Learn tennis with specific biomechanics to your body style while hitting a ton of balls.

Sharpen your fundamentals, specific skills, footwork, strategy and mindset in the game of tennis.

For more information, or to book an a-la carte instruction session or a group clinic, call Aji Spa directly at 602-385-5759.
Tournaments
Let Josh set up Social Round Robins, Mix & Splits, and Compass Draws and Elimination Events (call for details)
Josh Bates
Aji Spa at the Sheraton Grand at Wild Horse Pass is proud to offer Bates Tennis Services as the on-site tennis academy and instructional team offering a wide array of services including personalized coaching, doubles and singles tactical drills, comprehensive packaging and unparalleled customer attention. With several years of experience in the tennis industry, Bates has been teaching tennis in the Valley for 16 years.
His credentials speak for themselves, Bates finished #1 in men's 35's doubles and #5 in men's 35's singles at USTA Southwest 2010 and 2011. He is a PTR Certified Professional and recently earned his Masters of Tennis Performance through The Professional Tennis Registry (PTR), making him one of only 12 professionals in the World to reach this pinnacle of performance. Bates was also named PTR Arizona Member of the Year for 2012.
He has served on the Professional Tennis Registry (PTR) since 1994, the Wilson Advisory Staff, the Adidas Advisory Staff and is a board member of the United States Tennis Association (USTA).