Valentine's Day Dining at Wild Horse Pass
Valentine's Day in Kai
Wednesday, February 14th
We invite you to toast to your sweetheart while indulging in the Valley's premier culinary experience offered at Kai. Chef de Cuisine Ryan Swanson has prepared an exquisite seven-course tasting menu entitled, "Tachchu," the Pima word for love.
Dinner service will be offered from 5:00 – 9:00 pm and will be priced at $225 per person. Wine pairings selected by Sommelier and Wine Director Kevin Lewis are available for an additional $100 per person.
Reservations are required for the occasion and can be secured by calling 602-385-5777.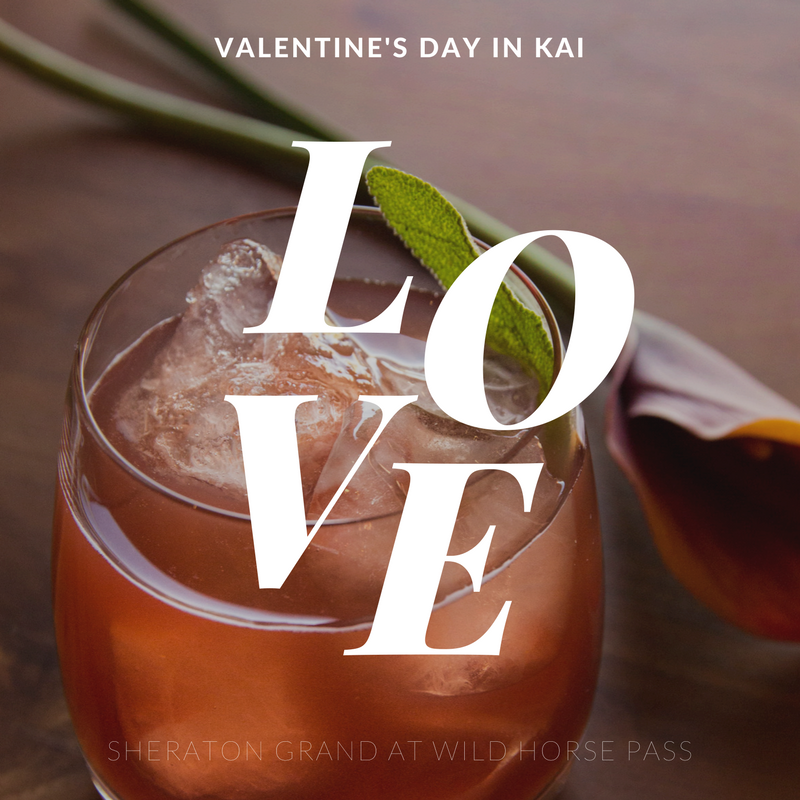 First
Amuse Bouche
Chef's Choice
Second
Basket of Flowers
Arrangement of Greens & Flowers
Agave Rose Vinaigrette
Buckwheat Basket
Third
Arctic Char & Oysters
Perigord Truffle Potato Puree
Preserved Meyer Lemon
Cucumber Blooms, Celery Heart Caviar
Fourth
Love Birds
Mesquite Roasted Hudson Valley Duck Breast
Quail Torchon
Game Broth
Fermented Cabbage
Fifth
Elixir of Love
Sixth
Dover Sole
Puffed Amaranth Pastry
Crustacean Mole Beurre
I'itoi Roots
-or-
Bison
Tenderloin, Tail, Marrow
Juniper Tincture
Blue Corn Grits
Seventh
Dessert
Hazelnut Semi Freddo, Strawberry Hibiscus Gel,
Praline Snow, Chocolate Mesquite Cremeux,
Caramelized Banana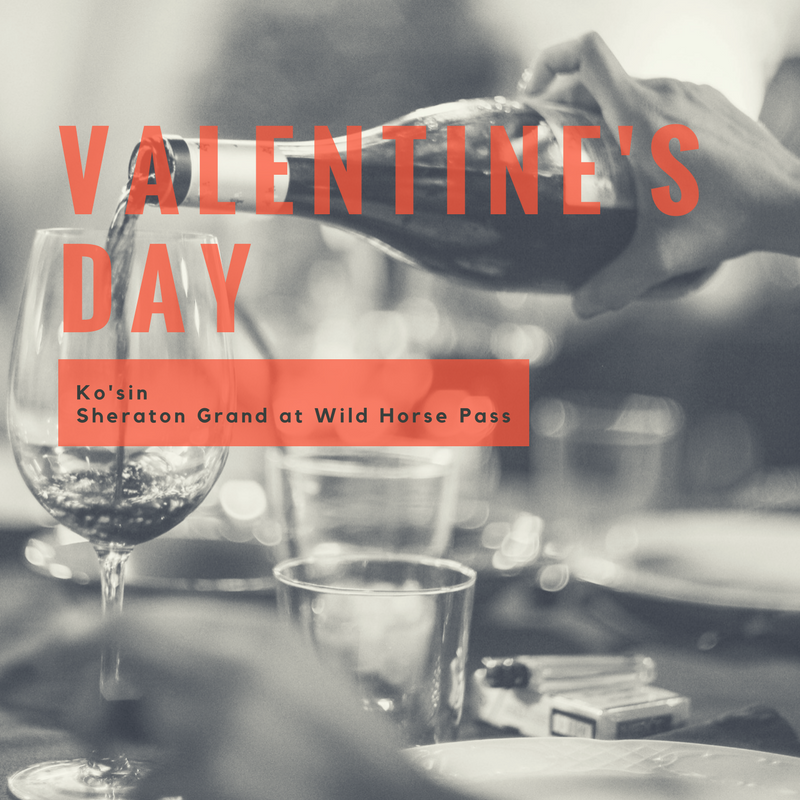 Valentine's Day in Ko'sin
Wednesday, February 14th
Allow the culinary team at Ko'sin to excite you with an enchanting, four-course prix fixe menu to celebrate the year's most romantic holiday. Arrive early to watch the sun set behind the Sierra Estrella Mountains while sipping on one of our house made barrel-aged bourbon cocktails.

Dinner will be offered from 5:30 p.m. to 9:00 p.m. and will be priced at $80 for adults and $72 for seniors.
Reservations are suggested and can be made by calling 602-385-5726.
First
Lovers on Horseback
Date leader with Crow's Dairy Mouse
Second
Lobster Bisque
Sherry crème fraiche espuma
-or-
Forbidden Fruit Salad
Saved Wilcox Apples, Tatsoi, Burnt Honey Vinaigrette,
Pomegranate Seeds, Whipped Brie
Third
Ancho Glazed Seabass
Pima Wheat Berries, Garden Vegetable Escabeche,
Tepary Black Bean Puree
-or-
Charcoal Rubbed Prime Rib
Buttered Potatoes, Roasted Heirloom Carrots,
Grilled Onions, Horseradish & Parsley Salad
-or-
Gila River Citrus Brined Game Hen
Cauliflower Gratin, Shaved Brussels Sprouts,
Blood Orange Puree
-or-
Mesquite Smoked Short Ribs
Creamy Ramona Farms Polenta, Bourbon Glazed Carrots,
Tabasco Onions
-or-
Vegetable Pot Pie
Forest Mushrooms, Heirloom Carrot, Braised Fennel,
Roasted Shallot Velouté, Flaky Pastry Topping
Fourth
Raspberry Champagne Verrine
Mesquite Vanilla Cremeux, Raspberry Gelee,
Dehydrated Meringue
-or-
Chocolate Black Bean Liquid Cake
Warm Chocolate Cake, Strawberry Hibiscus Gel,
Madagascar Vanilla Bean Ice Cream