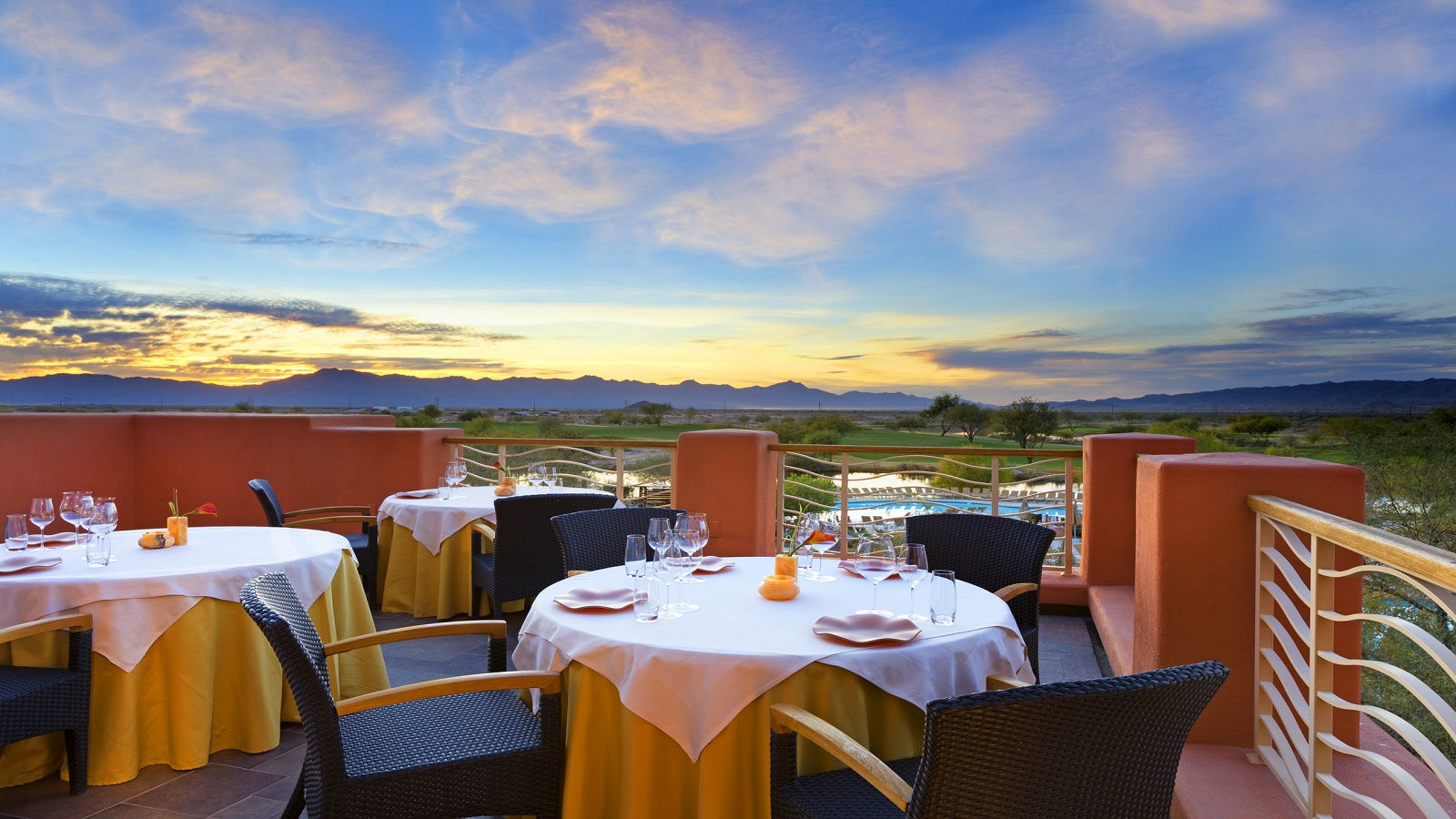 Thomas Riordan, Executive Chef

Thomas Riordan brings a prestigious culinary background, more than 20 years of experience ranging from fine dining to large banquet service in numerous award-winning restaurants across the country and an exceptional understanding of the luxury market place to his role as Executive Chef at The Sheraton Grand at Wild Horse Pass.

In his position, Riordan has the significant task of overseeing all culinary functions at Sheraton Grand at Wild Horse Pass, including oversight of restaurant concepts and menus for Ko'Sin and the signature restaurant, Kai. Additionally he will oversee meeting and group banquets, event catering, guest room dining for the 500 room resort and all culinary staff recruitment and training.

Most recently Riordan served as the Executive Chef at W Austin, and his responsibilities included management of several culinary venues including; TRACE restaurant, banquets, pastry, butchery and charcuterie, food service in the resort's three bars and lounges, all functions of in-room dining, stewarding operations, catering and the green room for the ACL theater.

Prior to that he was the Executive Chef at The St. Regis Aspen where he developed and executed the concepts for Italian restaurant Trecento Quindici Decano, as well as the innovative new spa treatment for Remede Spa, the "Farm-to-massage table." Riordan also opened and served as Executive Chef at the renowned Chef's Club, Food & Wine's collaborative platform for showcasing some of the country's top culinary talent.

His breadth of experience includes positions at several esteemed restaurants in the Phoenix/Scottsdale area. He was the Executive Sous Chef at The Phoenician, the Chef de Cuisine at Marquesa, which was the AAA Five-Diamond signature restaurant of The Scottsdale Princess, when open. He also held a chef position at the JW Marriott Camelback Inn. Riordan graduated from the Culinary Institute of America in Hyde Park, New York.

As the Greater Phoenix area continues to evolve and thrive as a culinary destination, Chef Riordan's enthusiasm for creativity and his finesse will further establish the great culinary tradition for which Sheraton Grand at Wild Horse Pass is known.
Ryan Swanson, Chef de Cuisine

Chef Swanson brings a vast level of expertise to his current position as Chef de Cuisine of Kai, at Sheraton Grand at Wild Horse Pass. In his new role, Swanson will oversee the daily operations in Kai including all ordering, scheduling, staff training and nightly implementation. Most importantly, Swanson will oversee the creative process and drive all new menu development in Kai; from exclusive wine-dinners and private events to each frequent and inspired seasonal rotation.

With 15 years of experience in the luxury hospitality and culinary industry, Swanson has developed an extensive background in luxury and world class service. Swanson has held many notable positions at the resort. Most recently, Swanson was the Sous Chef in Kai, where he has been employed for the last 6 years. Prior to that, he was the Chef de Partie in Ko'Sin Restaurant. He was also specifically recruited to help open the Chef's Club in Aspen, Colorado.

Swanson has a natural enthusiasm for incorporating fresh, seasonal and local ingredients into culturally relevant dishes that not only satisfy the most selective of appetites but also pique each diner's curiosity for the connection between the history of the Pima and Maricopa People and the culinary experience offered in Kai.

Chef Swanson has played an instrumental role in helping Kai earn and maintain their AAA Five-Diamond and Forbes Five-Star status. Swanson was also named the resorts "Rising Star of the Year" in year 2014. Chef Swanson is also honored to have been apprenticed under Vincent Guerithault, one of the few James Beard award-winners in the Southwest. Swanson's biggest personal accomplishment is earning the title of Sous Chef and now Chef de Cuisine of Kai.

Chef Swanson graduated from Scottsdale Community College Culinary Program with honors in 2006. Swanson currently resides in Tempe. When he has time away from the kitchen, he enjoys hiking, golfing, hockey, listening to vinyl records and traveling.
Anthony Marazita, Ko'sin Chef

Anthony Marazita brings innovative culinary expertise to his position as Ko'Sin Chef at Sheraton Wild Horse Pass Resort & Spa. In his role, Marazita oversees the operations for Ko'sin Restaurant, Hanyo Grill, the Link Cafe and in-room dining at the 500-room resort.

Marazita's culinary interest began at an early age as he grew up helping with the cooking responsibilities at his mother and father's restaurant in Lake Tahoe, Nevada. As his passion continued to grow, Marazita competed in both State and National level Culinary Arts competitions and was awarded gold, silver and bronze medals.

Marazita has developed an extensive background in the hospitality and culinary industry. Prior to joining Sheraton Wild Horse Pass Resort & Spa in February 2011, Marazita held positions at various luxurious establishment such as fine dining restaurant, White Orchid, the Peppermill Casino Resort and most recently at the Hidden Valley Country Club in Lake Tahoe, Nevada. While there, Marazita was charged with menu development for all F&B outlets, as well as leading exclusive weekly cooking classes for the members of the country club.

A few of Marazita's most notable career highlights include cooking for three former U.S. Presidents: George Bush, Bill Clinton and George W. Bush.

With a Bachelor of General Studies from Truckee Meadows College, Marazita enjoys spending his free time grooming dogs (specializing in the Schnauzer cut) and attending Arizona Diamondbacks games to cheer on his favorite team.

Patrick Sinclair, Banquet Chef

Patrick Sinclair approaches his position as Banquet Chef at Sheraton Wild Horse Pass Resort & Spa with dynamic focus. In his leading role, Sinclair oversees all Banquet, Garde Manger and Pastry Kitchen operations for the 500-room resort.

Sinclair has earned a breadth of expertise through his 22 year culinary journey and has served over 15 years with Starwood Hotels & Resorts Worldwide Inc. Prior to joining Sheraton Wild Horse Pass Resort & Spa in January 2011, Sinclair has spent time at a wide array of luxury properties around the valley including the Phoenician, Westin Kierland Resort & Spa and Waldorf Astoria Resorts, Arizona Biltmore & The Boulders.

A few of Sinclair's most notable career highlights include acting as an integral opening team member for Club 19 at St. Regis Monarch Beach and working at the former Forbes Five-Star and AAA Five-Diamond restaurant, Mary Elaine's.

Certified through the American Culinary Federation, Sinclair enjoys mountain biking, home improvement projects and is a passionate advocate for the American Diabetes Association and Juvenile Diabetes Association. Sinclair resides in the Mesa, Arizona with his wife and two children.
Audrey Enriquez, Pastry Chef

Audrey Enriquez approaches her position as Pastry Chef at Sheraton Wild Horse Pass Resort & Spa with innovative passion and a highly sophisticated palate. As the resort's pastry chef, Enriquez is responsible for the menu execution and implementation of desserts in Kai, Arizona's only Five-Star and Five-Diamond restaurant, as well as the four additional dining outlets, banquets and in-room dining at the 500-room resort. She will oversee all pastry production and ordering as well as scheduling and supervising of the pastry staff.

Prior to her start at Sheraton Grand at Wild Horse Pass in March 2015, Enriquez spent two years at the Sanctuary on Camelback Resort/Elements Restaurantas Pastry Chef working closely with Iron Chef, Beau MacMillan. Here, she developed many tempting signature deserts. She also oversaw all pastry production, ordering, menu implementation and had the honor of working closely with her culinary idol, Chef Elizabeth Faulkner.

Enriquez brings more than eight years of experience into her role. She has held pastry related leadership positions at many of Phoenix/Scottsdale's premier dining outposts including Dish, Michael Mina's Bourbon Steak as well as the Buttes Marriot Resort.

A few of Enriquez's career highlights include an appearance on Sonoran Living Live and Your Life A to Z. With an Certification in Patisserie and Baking from Le Cordon Bleu Scottsdale, Enriquez's passion for all things sweet and love for her job is evident through her creative and delicious creations. Enriquez lives in Downtown Phoenix with her two dogs and enjoys fine dining and going to the movies when she is not in the kitchen.